Cape Cod beaches are some of the most beautiful beaches in the world.
In order to find out which is the best beach, we need to ask the question; Best for whom?
Below you will find a list of the best beaches on Cape Cod for each category, including best beach for families with young children, for sunsets, the most romantic beach, and the best Cape Cod dog friendly beach.
Do you like to fish? We'll show you a great beach where you can catch striped bass while the rest of the family enjoys everything else that this beach has to offer.
Do you like seclusion? We'll show you an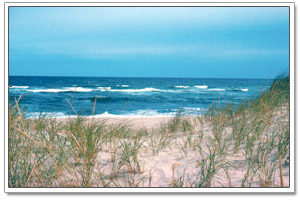 incredible beach only accessible by boat
and we'll show you where to get a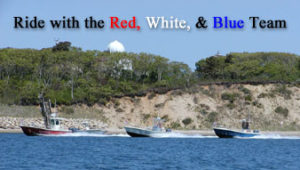 boat shuttle
to take you there. This is one of our family's favorites. It is like having your own private beach on Cape Cod.
Be sure to cast your vote for your favorite Cape Cod Beaches
The beaches on Cape Cod offer something for everyone.
The calm waters of Cape Cod Bay are perfect for young kids.
When the tide goes out, the flats can extend for up to a mile offshore, leaving behind numerous tidal pools for young ones to explore.
If you are looking for the best place to stay on Cape Cod with kids…Check out the best Cape Cod Bay hotels
If you are a fisherman, when the tide comes in, so will the striped bass on some of these beaches.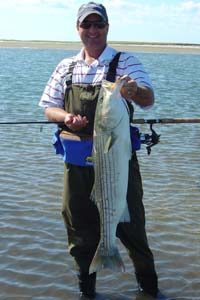 we will tell you which ones!
On the south side of the Cape, you will find the beaches of Nantucket Sound.
These beaches feature soft, sugary sand with warm, calm water ideal for swimming and windsurfing.
This is where you will find some of the best Cape Cod beachfront rentals.
On the east side of the Cape, you will find the beaches of the Atlantic Ocean.
These beaches feature the cold water and crashing surf that the Atlantic is known for.
It is here that you will find the dunes that capture the look of Cape Cod.
A great spot for a family portrait.
No matter what you are looking for in a beach, you can find it on Cape Cod. Click on the links below to find the best beach in each category.
Best Cape Cod Beaches
Best Beach for Family's with Young Children
 Town by Town Guide to Cape Cod Beaches
Select a Town To View Its Beaches
---
Votes From Our Readers for the Best Cape Cod Beaches!
Justine – CT – Craigville Beach and Long Beach (an extension of Craigville Beach)
Shelby – MA – South beach Chatham, outer most harbor. I have been going for years and it's like being on a island, almost deserted island. Just beautiful !
Don – MA – Nauset Beach
Tyler – MA – My favorite Cape Cod beach is Cahoon Hollow beach for its scenic dunes and clear water
Kelly – ON – Coast Guard Beach
Na – MA – The truth is, all of them are what I like.
Broryiana – MA – Craigville Beach
Peggy – NY – For ocean beaches it would be Long Nook in Truro for its amazing 100 foot dunes. Bay side beaches would be First Encounter, amazing at sand permutations at low tide.
IB – ON – Corporation beach – it was a great calm and clean beach, no waves, shallow water, great for kids and anyone who doesn't like waves.
Kathy – NY- My favorite beach has been Nauset Beach, Orleans Ma. since I was a kid 35 years ago. Get there at sunrise,it's beautiful. During the day, the great surf and brisk waters refresh you. Pick up the Onion Rings at Liam's as an afternon snack. And don't forget to go for the evening concerts at the Gazebo… family friendly and lot's of fun.
Katie – MA – Mayflower!
Audrey – MA – Mayflower!
Tuck – NH – First Encounter! Fantastic for kids! No crowds!
Mary – MA – Popponesset Beach
George – MA – Whitecrest Beach
Ryan – MA – Mayflower Beach in Dennis
Shawn – CT – Coast Gaurd Beach is by far the best beach on the Cape. Been going there for 15 years.
David – MA – Well it would have to be Pains Creek beach that is where me and my wife got married back in 2002
Jim – NY – Corporation beach
Asia – CT – I think the best beach in Cape Cod is Mayflower beach. It is located in Dennis. The view is amazing and everyone in my family always has a blast!
Laurie – CT – Mayflower beach in Dennis is great because of all the tide pools and how the tide comes in and out. I love it there and always get a tan! 🙂
Cynthia – CT – My favorite Cape Cod beach is Mayflower beach. The water is clear and it is so amazing how the tide goes out and in so fast. The waves are perfect for boogyboarding and you don't have to worry about jellyfish when they're in season. Small tide pools form and you can find sand dollars, pretty shells, snails, hermit crabs, starfish, shrimp, and more creatures. The beach is so scenic and amazing. The location in Cape Cod is Dennis. (on the bayside)
Cast Your Vote for the Best Cape Cod Beaches