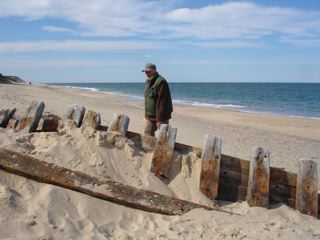 Dreaming of living on the Cape year-round? My husband Sven and I moved here a dozen years ago to care for my elderly parents.
We did not intend to stay.
Oh, no.
We had lived in Paris, France, for ten years and thought we preferred the city.
My mom passed away in 2006, and we're still here, with no intention to leave.
The Cape has a way of sinking its claws deep into your heart.
We started a bed & breakfast in Mom's old Cape Codder so we could share our discoveries of our new home with guests.
I used to be a freelance writer.
It seemed natural to start a blog as a method of communication.
I often write about walking on LeCount Hollow Beach, down towards Marconi, our favorite beach in the off-peak months due to the firmness of the sand.
I report on restaurants and new businesses in town.
I was on Wellfleet's Citizens' Economic Development Committee this year and wrote about the committee's conclusions, as well.
Oysterfest, Wellfleet Preservation Hall, WHAT, our wonderful public library – all have been the topic of my blogs.
For thirty years I visited Welllfeet as a tourist during the summer.
Now I am proud to be a year-round resident.
I worry about water quality.
I listen to Cape & Islands radio.
I enjoy the Cape's incredible beauty and worry about its preservation.
If you would like to know what it feels like to live here and run a green bed & breakfast, come visit my blog and say hello.
by Alexandra Grabbe
(Wellfleet MA USA)
Join in and write your own page! It's easy to do. How? Simply click here to return to Cape Cod Stories.