If you are looking for the best tick removal tool on the market today…Look no further than the Tick Key!
If you have ever tried to take a tick off of a nervous dog…Or worse…A nervous child…Then you know that tweezers are not the best tick removal tool.
There is only one tool on the market today that quickly, safely and completely removes the tick every single time.
Why is The Tick Key the best tick removal tool on the planet?
1. No hunt and pecking required, simply place body of tick in tear drop hole and pull key forward to firmly grab the tick by the neck. Works on all ticks.
2. The Tick Key works quickly, removing the tick body and head in a single sliding motion with an easy to grab handle. You don't have to be a surgeon, nurse, or Houdini to use this product. No training required.
3. Some ticks are embedded deeply and are stubborn as mules!. They are literally hanging on for life. If the forward angled motion of the key fails to remove the tick, simply pull the key firmly away from the skin with the sturdy aluminum key and off it comes every-time.
4. Since the key secures the tick quickly and removes it even faster, your animal does not have a chance to fuss. If you have ever tried to use tweezers on a nervous animal you know what we mean.
How to use the Tick Key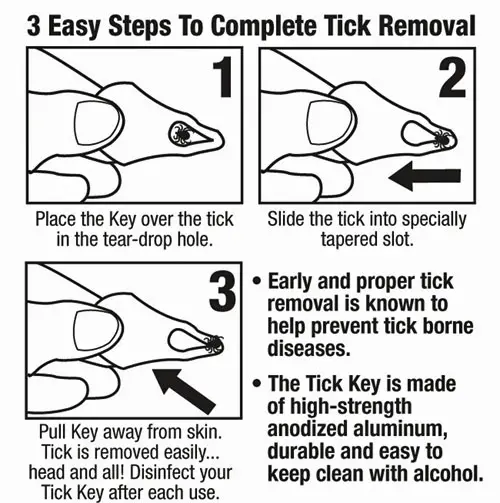 Product Features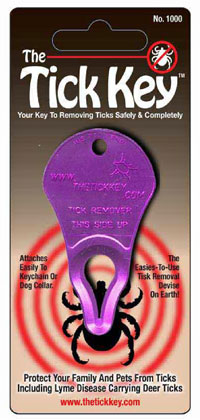 The best tick remover on Earth! Place the key over the tick in the teardrop hole. Slide the tick into specially tapered slot. Pull key up from skin. Tick is removed easily, head and all!
This patent pending design has been perfected and tested for over five years and is responsible for removing of thousands of ticks of all sizes including deer ticks and dog ticks.
The Tick Key is fabricated from high-strength anodized aluminum. This is not a cheap piece of plastic.
The Tick Key is flat and is easily stored in a wallet, pocket, on a key chain, collar, saddle, or leash.
Testimonials
"As a professional mobile dog groomer, I have tried many tick removal devices, but none that match the effectiveness of The Tick Key. It is easy to use and removes the tick cleanly and completely every time!"
Chris Tompkins
Dog Gone Clean
"I have 6 animals and 4 active boys. We use it constantly and it works great."
Steve Garceau.
www.bordzup.com
"We have carried other tick removers in the past, but have sold more Tick Keys in two months than all other products we have carried in 14 years."
Gregg and Nancy Tidd
Canaan Valley Pet Shop
"The Tick Key is "HOT" on my list of top sellers. My customers are thrilled with the ease of use and the convenience of placing the key on their key ring. This fabulous product is perfect to remove ticks from people and pets. The bright colors the keys come in are appealing to the eye."
Donna
www.healthyhappypetnet.com
"We have 2 apprehensive pets and 3 very apprehensive children when it comes to tick removal. The Tick Key is by far the best tick removal tool
available today. It has worked quickly and completely 100% of the time for us."
John and Maria