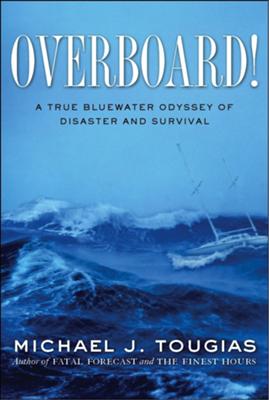 "You will not be able to put this book down."—Dodge Morgan, first American sailor to circumnavigate the globe solo and non-stop.
Overboard!
New Book Explores
Survival from Rogue Wave
A press release from Michael Tougias
508-520-8843
[email protected]
www.michaeltougias.com
Scientists have recently discovered there are far more rogue waves than previously thought, and they are likely increasing in size and frequency. Among the worst places on the planet to generate rogue waves is the Gulf Stream, just off the east coast of the U.S. This is the location of a May 2005 disaster and survival story chronicled in Overboard! by bestselling author Michael Tougias and published by Scribner.
This true story begins when Captain Tom Tighe and first mate Loch Reidy of the sailboat Almeisan welcomed three new crewmembers for a five-day voyage from Connecticut to Bermuda. The new crew included 46-year-old Kathy Gilchrist, 70-year-old Ron Burd, and 34-year-old Chris Ferrer. While Tighe had made this trip 48 times and Reidy accompanied him on 20 of those voyages, the rest of the crew had joined to learn more about offshore sailing. Four days into their voyage a storm struck, and a rogue wave swept the captain and first mate into the seas. The new crewmembers managed to stay aboard the vessel as it was slowly torn apart by the rampaging ocean. Overboard! follows the simultaneous desperate struggles of the crewmembers still on the boat and the captain and first mate fighting for their lives in the sea. Tougias
Also hit by the same storm was the sailboat At Ease, located off North Carolina. Captained by Army Black Hawk helicopter Bob Cummings and assisted by sailboat racer Jerry McCarthy, the two men had considerable sailing experience, but neither had seen anything remotely similar to the violence of the storm they were caught in. Overboard! chronicles their desperate fight for survival after their boat is capsized.
The Coast Guard's ensuing search and rescue was so difficult and dangerous it was later selected—from among thousands of cases—as the SAR case of the year. Helicopter pilots and rescue swimmers alike found themselves in almost as much trouble as those trapped by the rampaging ocean.
By turns tragic, thrilling, and inspiring, Overboard! is a riveting, fast-paced true story of death and survival at sea. (see next page)
Unique Aspects of Overboard:
· The author delves into the mindsets and techniques that helped crewmember Loch Reidy survive, against all odds, for 28 hours in the storm tossed seas.
· Overboard! is written in the present tense for immediacy and fast pacing.
· Rogue Waves and their genesis are analyzed in the book.
***Reporters can talk to the survivors. Just email Michael Tougias at [email protected] to get contact info.
Overboard! is a hardcover book that includes photos and maps. On sale in the Nature section of bookstores everywhere beginning March 16, 2010. (See next page)
Michael J. Tougias is an award-winning author of 19 books, including several true maritime thrillers: Fatal Forecast, Ten Hours Until Dawn, and The Finest Hours (co-authored with Casey Sherman). He is a much sought-after lecturer and lives in Massachusetts.
Praise for Michael Tougias
TEN HOURS UNTIL DAWN
"The best story of peril at sea since the Perfect Storm. A superb narrative." –Booklist (starred review)
"An incredible tale of heroism and sacrifice" –Nathaniel Philbrick, author of In the Heart of the Sea
"Tougias delivers a vividly written tale of brave men overwhelmed by the awesome forces of nature." – Publishers Weekly
FATAL FORECAST
"Tougias skillfully submerges us in this storm and spins a marvelous and terrifying yarn. A breathtaking book." — The Los Angeles Times
"Deserves a place as a classic of sea survival history." –The Boston Globe
"Tougias spins a dramatic saga…gripping." – National Geographic Adventure Magazine
THE FINEST HOURS
"An action-packed account of rescue at sea…a gripping tale." –Kirkus
"A blockbuster account of tragedy at sea that gives you a "you are there" feel." — Providence Journal
"Aptly described as Saving Private Ryan meets The Perfect Storm" –Florida Today
Join in and write your own page! It's easy to do. How? Simply click here to return to Cape Cod Stories.