Boarding a Cape Cod Ferry and making the short trip to Nantucket or Martha's Vineyard can be one of the most memorable parts of your vacation.
With todays high speed ferries, you arrive in an hour, and your island awaits exploring.
This can be a great family day trip.
Our family took a ferry out of Hyannis to Nantucket, where we rented a Jeep complete with a 4WD beach pass.
We spent the day cruising the beaches of Nantucket. It was awesome! Great memories for the whole family.
Check out the information below. Find a ferry to one of the islands, and create your own Cape Cod memories!
Hy-Line Cruises
Hy-Line is a family owned Cape Cod ferry company sailing from Hyannis to both Nantucket and Martha's Vineyard. They also offer Hyannisport Harbor Cruises, Cape Cod Canal cruises and fishing trips, as well as private charters. Click on the links below for specific information.
Steamship Authority
The Steamship Authority has been in existence since 1818, sailing from Woods Hole to Martha's Vineyard, and Hyannis to Nantucket. Click on the links below for more information.
Freedom Cruise Line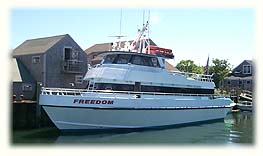 Freedom Cruise Line is a ferry company sailing from Saquatucket Harbor in Harwichport. They offer service to Nantucket and private sightseeing tours. Click on the links below for more information.
Return to Boating Cape Cod