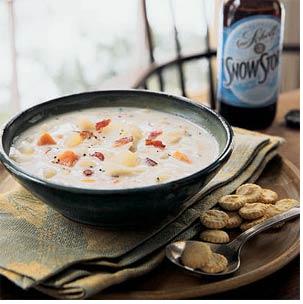 Preparation time: 4 to 5 weeks depending on size.
Cooking time: 12 to 15 days, depending on size.
Serves: Entire population of the lower Cape
Ingredients:
-One whale, (preferably a large one)
-One-ton truckload of Maine potatoes (chopped)
-Small pick-up truckload of carrots (diced)
-Two wheelbarrow loads of onions (very thinly sliced)
-600 gallons chicken broth
Peel the skin from the whale, and cut into one-inch pieces.
(This should take 3 weeks to 4 weeks)
Place all ingredients in a 700 gallon pot and simmer for two weeks or until potatoes and carrots are done. Stir frequently.
Remove bones and drain whale blubber.
Add the rind of one small lemon, season to taste and garnish with seaweed.
Serve hot at the beach with Harpoon Ale…
by Capt Quint
(New Bedford, MA)
Join in and write your own page! It's easy to do. How? Simply click here to return to Cape Cod Stories.