Chatham is one of our families favorite Cape Cod towns and the Cape Cod beaches in Chatham are just one of the reasons!
Everything that you could want in a vacation town, you can find in Chatham. From world class luxury resorts, to the best in both fine and casual dining.
You can't miss the great shopping in Chatham's quaint downtown, or the incredible fishing along its shores.
Ah…and let's not forget the stunning Cape Cod beaches in Chatham, whether you are looking for a calm water beach for kids, a big surf beach on the Atlantic, or a remote, secluded beach where you can get away from the crowds, Chatham has them all.
Non residents may purchase stickers for the Cape Cod beaches in Chatham at on-site beach booths.
Residents may purchase stickers at the permit office, located at 283 George Ryder Road. 508-945-5180.
Chatham Light Beach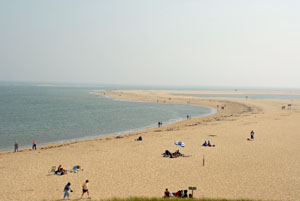 Chatham Light is an Atlantic Ocean beach located just inside the Chatham break, which is the entrance to the Atlantic from Pleasant Bay.
Chatham break is an ever changing channel to the Atlantic formed by the storms that frequent this coastline.
The beach is protected from swells by Nauset Beach, and therefore does not have the large surf of other Atlantic Beaches.
Parking here is very limited, however there is a parking lot in the center of Chatham with shuttle service.
There are no amenities here.
Directions: Take Main Street in Chatham to shore Rd.
Cockle Cove Beach
Cockle Cove Beach features the soft, sugary sand and warm, calm waters of Nantucket Sound, making it an ideal beach for families with young children.
It is one of the smaller beaches in the area, attracting a smaller crowd than some of the more popular beaches.
Amenities include:
Restrooms
Lifeguards In-Season
Ice Cream Truck visits regularly
Town Sticker required to park
Directions: Take Route 28 in Chatham to Cockle Cove Road.
Hardings Beach
Hardings Beach is another Nantucket Sound beach, making it ideal for children as well. Soft sand and warm, placid water are the name of the game here.
Hardings is a much larger beach than Cockle Cove and also features a snack bar, moving it up just a notch in our search for best beaches.
This is one of our favorite Cape Cod beaches in Chatham.
Amenities include:
Restrooms
Lifeguards In-Season
Concessions
$15 Daily Fee or $60 Weekly Fee
Directions: Take Route 28 in Chatham to Barn Hill Road to Harding's Beach Road
North Beach
North Beach is actually the southern most tip of Nauset Beach. It is accessible only by 4WD vehicle or by boat from Pleasant Bay.
If you don't own either of these, you can get a water taxi from the Chatham Fish Pier located on Shore Rd.
This is one of the untamed beaches of the Atlantic Ocean and should be given the respect that it deserves.
Big surf and strong undertows are the order of the day.
If you are looking to get away from the crowds on a Cape Cod summer day, this may be your beach.
There are no amenities so be sure to pack anything that you may need.
4WD access is via the parking lot at Nauset Beach in Orleans and requires a permit from the Orleans Police Department.
Pleasant Bay Beach
Pleasant Bay Beach is a small inconspicuous beach located right along the side of Rt 28.
Parking is extremely limited, making for very uncrowded conditions.
The warm, placid waters of Pleasant Bay make this little beach perfect for toddlers.
If you are looking for a small beach to spend a couple of hours with your little ones, Pleasant Bay may be your beach.
There are no amenities here.
Ridgevale Beach
Ridgevale Beach is a Nantucket Sound beach featuring soft sand and warm, calm water.
Ridgevale is wider than the other sound beaches in this area, and has a winding creek behind it where young ones can explore, finding an array of marine creatures.
Don't forget your nets! Amenities include:
Restrooms
Lifeguards In-Season
Directions: Rt 28 to Ridgevale Rd.
South Beach
Are you looking for the ultimate uncrowded beach?
This Cape Cod beach in Chatham is the one!
South Beach is accessible only by boat. It is an unbelievable beach on the atlantic.
Big surf and cold water are the name of the game here.
It is a narrow stretch of sand with the Atlantic Ocean on one side and the small bay east of Monomoy Island on the other.
When you stand alone on this beach you can feel the sheer rawness of mother nature.
Sand and dune grasses for as far as the eye can see.
Thoughts of; If I was stranded here, how would I survive?, find their way into your subconscious. Followed by the realization that you probably wouldn't.
Lucky for all of us, there is an on demand boat shuttle starting at 8AM and running till 4:30. The people at Outermost Harbor are fantastic, we highly recommend their services.
They will drop you off at a predetermined place on the back side of the beach. From there all it takes is a short stroll to your own stretch of private beach. If you walk far enough, you will not see another human being all day.
Keep in mind that this is truly a secluded beach, so there are no amenities of any kind. No restrooms, no lifeguards, nothing.
Just the way we like it.
Ahh… privacy!… On the beach!… On Cape Cod!… In the middle of summer!… You've got to love it!
Life is too short to miss natural wonders as spectacular as South Beach. The next time that you go to Cape Cod, take the time to visit this truly special place. You will be glad you did.