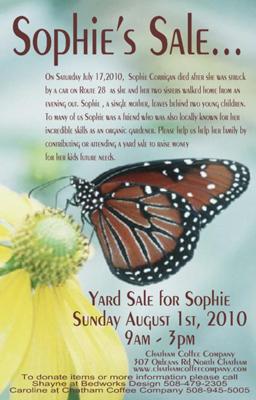 Hello,
We were hoping you might post this event on your blog.
The yard sale is on Sunday, August 1 from 9-3 in Chatham. There will be music, food, and some pretty fabulous things for sale including antiques, handmade items and jewelry, and lots of plants. There is also going to be a raffle for red sox tickets, patriots tickets, and some other great stuff. It is for a great cause.
Thank you!
Join in and write your own page! It's easy to do. How? Simply click here to return to Cape Cod Stories.