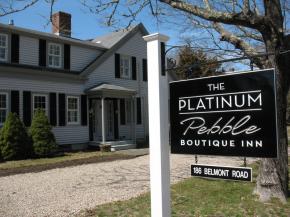 After a winter of major renovation and upgrade work, The Platinum Pebble Boutique Inn www.platinumpebble.com has officially opened.
Formerly the Lion's Head Inn, this 8 room B&B near the beach in Harwich was purchased by Annabelle and Simon Hunton in 2010 and has been totally refurbished to create a luxury Cape Cod bed and breakfast.
The house was originally built by Harwich sea captain Thomas Lewis Snow in the 1800's and the restoration has paid careful attention to maintaining the architectural detail of the original historic Greek revival house.
The interior design of the inn is now a unique blend of contemporary styling and sumptuous comfort.
Many of the new designer furnishings have been imported from Europe and all the en-suite bathrooms are custom built with tile, granite and glass.
Annabelle and Simon are both English and have recently relocated from The Netherlands to create and run this boutique inn.
"We're excited to have created something a little bit different for a Cape Cod inn, something akin to New York meets Cape Cod, and so far the feedback we've received has been very positive. Here's hoping for a summer of glorious weather!" remarks Simon.
For more info please contact [email protected] or call 508 432 7766
Join in and write your own page! It's easy to do. How? Simply click here to return to Cape Cod Stories.