The Cape Cod beaches in Orleans are located on Cape Cod Bay and the Atlantic Ocean.
Beginning with Orleans, the towns of the outer Cape stretch all the way across the Cape, from Cape Cod Bay to the Atlantic, giving them miles and miles of beautiful beaches.
Whether you are looking for the calm waters and expansive tidal flats of Cape Cod bay, or the raw, untamed beaches of the Atlantic, with big surf and cold water, you can find it here on the outer Cape.
Beach stickers for the Cape Cod beaches in Orleans can be purchased at the former American Legion building, located across the street from Town Hall.
The sticker office is open from Monday – Friday, 9AM – 3PM.
Visitor beach stickers are sold at Nauset Beach, on weekends from 9AM – 4PM and 7 days a week after June 18th.
For more information on Orleans beach stickers, call 508-240-3780.
Nauset Beach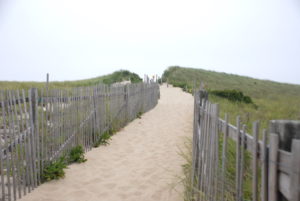 Nauset is one of the biggest and most popular Cape Cod beaches in Orleans, and with good reason.
Tourists and locals alike flock here in the summer to take advantage of the cool breezes off of the Atlantic.
Big surf and cold water are the name of the game here.
You can always find surfers catching a wave on Nauset as it is one of the best beaches for surfing Cape Cod.
It is also a popular surfcasting venue for both striped bass and bluefish.
Another frequent visitor to this Cape Cod beach are the seals. You can here the children squeal with delight as a seal surfaces for a breath of fresh air.
As I'm sure you are aware, with the seals come the great white sharks!
If you own a 4WD vehicle, you can access another 5 miles of beach, all the way to Chatham, with an ORV pass.
Passes can be obtained from the Orleans Police Department.
Driving on the sand to your own stretch of private beach is very cool! We recommend it highly if you own a 4WD.
You can also buy a permit to camp here!…On the beach!…How cool is that!
Nauset has every thing that you could want in a beach and more with an extensive list of amenities:
Restrooms
Showers
Lifeguards In-Season
Full Service Concession Stand
Large Picnic Area
Handicap Accessible
Huge Parking Lot
$15 Daily Parking Fee for Non-Residents
Directions: From Route 6A, follow Main Street through East Orleans to Nauset Beach Rd. all the way to the beach.
Rock Harbor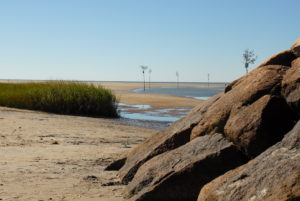 While Rock Harbor is not technically a beach, we feel it deserves mentioning.
There is a small strip of sand, as well as miles of tidal flats to explore at low tide.
Rock Harbor is a charter fishing port and it is fun to take a stroll along the docks, admiring all of the fishing vessels.
Time it right, and you can be there to witness the catches of the day being unloaded!
If you are in the area near sunset, don't miss the spectactular daily show choreographed by Mother Nature.
It is truly incredible!
There is paved public parking with no fee reqired.
There are Portable Restrooms
Directions: Rt 6A to Rock Harbor Rd.
Skaket Beach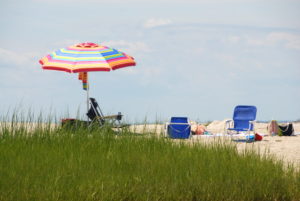 Skaket is one of the great Cape Cod beaches in Orleans for families with young children, featuring the warm calm waters of Cape Cod Bay.
It is perfect for swimming at high tide and perfect for exploring the expansive tidal flats at low tide.
Skaket also faces due west, so be sure to stay for a Cape Cod sunset as Mother Natures displays her glorious light show as the sun slips into Cape Cod Bay.
A perfect end to a Cape Cod day!
Amenities include:
Restrooms
Showers
Concession Stand
Lifeguards
Sand wheelchair
$15 Daily Parking Fee
Directions:Rt 6A to Skaket beach Rd.
Return to Cape Cod Beaches