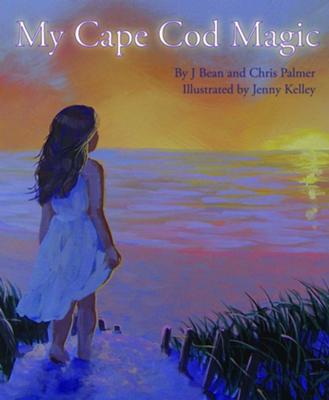 FOR IMMEDIATE RELEASE:
Contact: Annie Palmer, 508-888-1116, [email protected]
My Cape Cod Magic Children's Book Release
Sandwich, Massachusetts, June 2011 — Holly Hill Press has released My Cape Cod Magic, an early reader written by Cape Cod residents Chris and J. Bean Palmer, author of the popular Little Cape Cod Witch chapter book series, and illustrated by award-winning artist Jenny Kelley. Written in a poem format, this book introduces children to reading through lavish illustrations, each one connected to a sentence from the poem.
My Cape Cod Magic arose from a visit with the Palmers' granddaughter Emelia. The four-year-old expressed frustration at not being able to read. This gave Ms. Palmer an idea. "I had written the Little Cape Cod Witch magical adventures for middle-graders. It was clear Emelia loved beautiful pictures and rhyme and the rhythm of words. I think most kids do. I know I did. And I thought it would be helpful and fun to match an engaging poem with classic, picture-postcard images that iconically captured the Cape. When I was learning to read, the images really pulled me in, and I wanted this book to do the same." The fact that her husband was a fourteenth-generation Cape Codder only strengthened her conviction in this project.
Jenny Kelley, the illustrator, is the art department head at Pope John Paul II High School in Hyannis, and holds a BFA in painting from the Rhode Island School of Design. Her paintings have appeared in Cape Cod Life and other publications, while her portraits and murals have been displayed from Massachusetts to Florida. She has also illustrated numerous children's books.
"I tried to capture the moods of the different parts of the poem," Kelley says. "The scenes in this book range from underwater swimming with lobsters to cranberry bogs to harvesting beach plums. The Palmers wanted something a little retro, that harkened back to illustrations of the late nineteenth and early twentieth centuries, so I was excited to work on this."
Numerous signing events have been scheduled across the Cape this summer. Ms. Kelley's original artwork for My Cape Cod Magic will be shown at the Cape Cod Children's Museum in Mashpee in July and August.
A portion of the proceeds of all sales of the book goes to the Cape Cod Cultural Center in Yarmouth for educational programs for children because, as Ms. Palmer said, "They do wonderful work and we want to help contribute to their mission with the book."
The books are available at book, gift, museum and children's shops across the Cape. A list of current locations is attached. For more information on Ms. Palmer, visit www.capecodlittlewitch.com. Ms. Kelley's website is www.jennykelley.com.
Book Details:
ISBN: 978-0-578-08282-0
Suggested retail price $9.95, thirty pages, saddle stitched, 8.5 x 7
Fifteen, full-color, double-paged illustrations (8.5 x 14 each)
###
Locations for "My Cape Cod Magic" (July 17, 2011)
Online
Amazon.com
Plymouth
John Carver Inn Gift Shop
Jenney's Grist Mill
Onset
Artisana
Bourne
Windmill Gift Shop, Aptucxet Trading Port (Bourne Historical Society)
Buzzards Bay
National Marine Life Center
Wareham
Old Company Store
Sandwich
Daniel Webster Inn
Titcomb's Bookstore
Heritage Plantation and Museum Gift Shop
Dunbar's Tea Shop
Lavender Moon
Mariposa Art Gallery
The Crazy Camel Toy Store
Mary's Bookstore
Splash Stationers
Picture This! Custom Framing
Falmouth
Eight Cousins
Uncle Bill's Country Store, North Falmouth
Falmouth Historical Society Gift Shop
The Pink Polka Dot
Sea Crest Resort Gift Shop, Silver Beach
Cape Cod Bagel
Celebrations
Woods Hole
WHOI Gift Shop
Coffee Obsession
Mashpee
Cape Cod Children's Museum
Market Street Book Shop
Maiden Voyage
The Red Balloon
Barnstable
Barnstable General Store
Yummy Goods Gifts, West Barnstable
1856 Country Store, Centerville
Hyannis
Barnes & Noble
Seabreeze Gift Shop at Cape Codder Resort
Cape Cod Maritime Museum
So Ho Arts
Kandy Korner
Bee and Blossom
Cotuit
Isaiah Thomas Bookstore
Osterville
Books by the Sea
Oyster Island Emporium
Yarmouth
Cape Cod Cultural Center
Zooquarium
Pirate's Cove Marketplace
Cape Annie's Lighthouse
Dennis
The Barn Co.
Armchair Bookstore
Deborah Ann's Rainbow
The Gift Shop at Ebb Tide
Ring Bros. Marketplace
Deborah Ann's Rainbow
Puzzles, Toys and More
Brewster
Cape Cod Museum of Natural History
Brewster General Store
Brewster Bookstore
The Village Toy Store
Harwich
Sativa
The Potted Geranium
Harwich Historical Society Gift Shop
Chatham
Yellow Umbrella
Where the Sidewalk Ends
Chatham Children's Shop
Baker Hardware
Orleans
Main Street Books
Kid & Kaboodle
Tradewinds Gifts
Nory's Gifts
Booksmith/Musicsmith
The Red Balloon
Eastham
The Gift Barn
Wellfleet
Massachusetts Audubon Society
Wellfleet Marine Corp
Moby's Cargo
Seaberry Surf
Marconi Gifts
Truro
Highland Lighthouse
Provincetown
Women's Crafts
Martha's Vineyard
Riley's Reads, Vineyard Haven
Mardell's Gifts & Jewelry, Vineyard Haven
Martha's Gifts, Oak Bluffs
Two Susans, Vineyard Haven