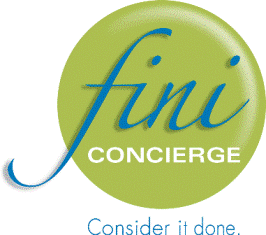 Imagine arriving at your vacation destination and discovering a fully stocked refrigerator, fresh flowers on the table and wine chilling on the deck instead of spending your first few hours of vacation fighting the crowds at the supermarket?
Imagine not feeling stressed if you can't make it down to the Cape to check in on your second home during the winter because you can call your as needed assistant to check in for you?
Imagine having your to-do list completed while you're enjoying time with your family, putting in a couple of extra hours at work or lying on the beach?
Since 2004, the Fini Concierge team has provided personal assistance to Greater Boston residents, handling everything from dry cleaning pick-up, bringing cars in for service and waiting for repairmen to planning parties and arranging complex travel arrangements. Starting this spring, Cape Cod residents and visitors will also have a chance to hand off those tedious and time-consuming tasks to a trusted and reliable team that specializes in making life manageable.
In addition to the day to day services that Fini Concierge offers it's Greater Boston clients, they also offer services such as opening and closing seasonal homes, stocking kitchens prior to guest's arrivals and conducting home check-ins during the winter months for second home owners that are not available to come down to the Cape frequently. Fini Concierge's Cape staff handle small projects that make a big difference such as taking clothes to the laundromat in addition to managing large projects such as planning seaside weddings and family reunions.
Fini Concierge's personal assistant services cost $47 an hour, with a one-hour minimum in addition to monthly packages with reduced rates for clients in need of ongoing assistance.
For more information visit www.finiconcierge.com, email [email protected] or call 617.247.0043.
by Allison Nadeau
(Cape Cod)