The Cape Cod beaches in Sandwich are on Cape Cod Bay, with calm waters and tidal pools filled with marine life.
Incorporated in 1639, Sandwich is the oldest town on Cape Cod and one of the oldest towns in the United States, settled by European immigrants nearly 150 years before the American Revolution.
Sandwich is a quaint and quiet New England town with seaside charm.
Stickers for the Cape Cod beaches in Sandwich can be purchased at the Tax Collector's Office, located at Town Hall Annex, 145 Main Street.
Four-wheel drive permits are available for purchase at the Gatehouse at Sandy Neck Beach, 508-362-8300, or at the Barnstable Department of Natural Resources 508-790-6272.
East Sandwich Beach
East Sandwich is a busy Cape Cod beach lined with summer rentals. Low tide will leave numerous tidal pools for young and old alike to explore.
Be sure to keep your eyes open for the sand dollars that are found here.
There are no amenities.
Directions: In Sandwich take Ploughed Neck Road to North Shore Blvd.
Sandwich Town Beach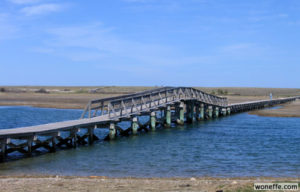 Sandwich Town Beach, also known as Town Neck Beach is also a very popular Cape Cod beach in Sandwich.
Town Neck features a long boardwalk over the marsh, leading to the beach.
There is an inner beach along the creek and an outer beach on the bay, leaving a lot of room to explore.
There are some great views of the Cape Cod Canal and the frequent boat traffic.
You may choose from a beachfront parking lot or a lot at the boardwalk. There are restrooms and concessions.
Directions: Take Route 6A in Sandwich to Town Neck Rd.
Sandy Neck Beach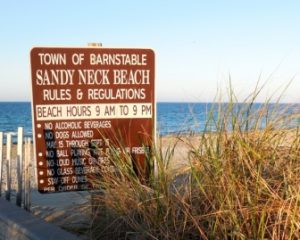 Sandy Neck is one of our favorite Cape Cod beaches in Sandwich.
Sandy Neck extends from Sandwich into Barnstable. It consists of a six mile long spit of sand, making it one of the longest beaches in the area.
If you own a 4WD vehicle you may drive on the beach here with a special permit from the town of Barnstable…Very Cool!
There are also walking trails along the marsh.
Amenities include:
Restrooms
Showers
Concessions
Lifeguards In-Season
$15 Daily Parking Fee
Directions: Take Sandy Neck Rd. off of Rt 6A in East Sandwich. Sandy Neck Rd. then winds north into West Barnstable until reaching the beach parking lot.
Return to Cape Cod Beaches