Are you a hopeless romantic? Or do you just enjoy the peace and tranquility of being alone on the beach while everyone else fights the crowds at other Cape beaches? If you answered yes to either of those questions. This is the best Cape Cod beach for you.
When it comes to romance, I think the first requirement is seclusion.
The peaceful serenity of knowing that you are the only ones on the beach.
Where on Cape Cod can you be alone, on the beach, in the middle of the summer season?
We have just the place for you!
Our Pick for the Best Cape Cod Beach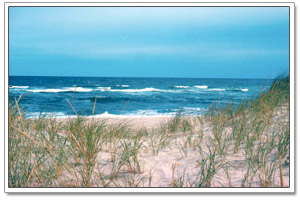 South Beach in Chatham
South Beach is accessible only by boat. It is an incredible Cape Cod beach on the atlantic.
Big surf and cold water are the name of the game here.
It is a narrow stretch of sand with the Atlantic Ocean on one side and the small bay east of Monomoy Island on the other.
When you stand alone on this beach you can feel the sheer rawness of mother nature.
Sand and dune grasses for as far as the eye can see.
Thoughts of; If I was stranded here, how would I survive?, find their way into your subconscious.
Followed by the realization that you probably wouldn't.
Lucky for all of us, there is an on demand boat shuttle to the best Cape Cod beach starting at 8AM and running till 4:30.
The people at Outermost Harbor are fantastic, we highly recommend their services.
They will drop you off at a predetermined place on the back side of the beach. From there all it takes is a short stroll to your own stretch of private beach.
If you walk far enough, you will not see another human being all day.
Keep in mind that this is truly a secluded beach, so there are no amenities of any kind.
No restrooms, no lifeguards, nothing.
Just the way we like it.
Ahh… privacy!… On the beach!… On Cape Cod!… In the middle of summer!… You've got to love it!
Pack a small cooler or perhaps a bottle of wine and your favorite cheese and grapes, and you will have all of the ingredients for an incredibly romantic experience.
Thinking of proposing to that special someone?
Want to make it something that the two of you will always remember?
South Beach may be your place.
I proposed to my wife on a small island in the Florida Keys, but if I knew about South Beach then, things may have been different.
Life is too short to miss natural wonders as spectacular as the best Cape Cod beach.
The next time that you go to Cape Cod, take the time to visit this truly special place.
You will be glad you did.